Welcome to Bear Lake Golden Doodles. This kennel is the fulfillment of a life long dream of mine to breed high quality dogs that will be beloved family members and beautiful representatives of their breed. I never imagined that the breed would be Golden Doodles, but one Sunday
afternoon, I was presiding at a Blessing of the Pets (I am a Lutheran Pastor) and saw the most beautiful dog I'd ever seen. Fun and funky, I
instinctively knew that this was "the" dog! After discovering that it was a Golden Doodle—a combination of two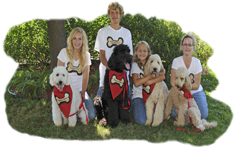 dogs that I loved, I knew I'd found my calling! I loved their looks, not to mention that Standard Poodles and Golden Retrievers are the #2 and #4 ranked dogs for intelligence.
After researching the breed, I found a

beautiful male, named Henry, that met all the requirements of an excellent Golden Doodle, beautiful conformation, a beautiful gait, and an exceptional coat—even better, a rare silky black coat! Henry came to live with us at 5 months old, and from day one he's been a show stopper. I can't take him anywhere without people getting out their camera phones to take his picture and asking me all about the breed. A trip to Pet Smart with Henry can take a loooong time!
After further research, I realized to get the best puppies available, I would need to breed F2B Golden Doodles. F2B Doodles are the result of a breeding between an F1 Goldendoodle (50% Golden Retriever and 50% Standard Poodle) and an F1B Golden Doodle (25% Golden Retriever and 75% Standard Poodle). What makes them so special? The resulting match, while keeping the best of both breeds, is 62.5% Poodle which ensures greater hypo-allergenicity (I made that word up :) and less shedding—two of the key reasons people prefer Doodles. So, along came Maisie, a beautiful, sweet F1B Golden Doodle. Expanding our parenting line is Sven and Freja, to keep the Doodles coming.
Also expanded are those who care for the dogs. Because of severe back
deterioration and and an incident during the summer of 2007, I suffer from chronic pain and round the clock headaches. I am on complete disability and am thankful for my children, friends in the area and from my former church who do the bulk of the heavy lifting and all of whom are wonderful caretakers of the puppies. Why do they do it? Definitely not because of me—but because these dogs are irresistable!!! And I am grateful to each and every one of them. I am left to do the fun part—cuddling and socialization!
I follow the philosophy of the Monks of New Skete, who wrote the landmark book, "The Art of Raising a Puppy" nearly twenty years ago. Following most of their methods, we will help you find the puppy that will best suit your family. From Day One, our puppies are handled gently and regularly by myself, my children and my helpers which leads them to be calm and socially well-adjusted individuals. We also study each puppy's temperament to determine what sort of family will work best for each dog and vice-versa. While size, color and coat are important, after all we want you to find your dog attractive, but a pretty dog in an unsuitable home is not a pretty picture! We want to welcome you to our kennel. I know you'll come to love our Doodles just as much as we do!
Sarah