This is Henry. Most folks are more familiar with a golden Golden Doodle, when folks see the beauty of Henry's shiny black coat, they often opt for the rarer black Golden Doodle.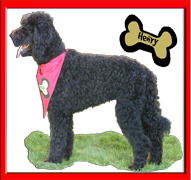 It's not only beautiful, it's addictive to touch, those curls feel soooo good. He's not a bad hugger either! Henry is an F1 Doodle. Click here for more pictures of
Henry
.
Henry is a big boy, weighing 80 pounds, but he's got more height (27" at the shoulder) than brawn and makes quite an appearance.
To the right is Sven who at ten months, when these pictures were taken, weighed 60 pounds (27" at the shoulder).
Click here for more pictures of Sven.
Doodles keep growing for two years, although the bulk of that (about 95%) happens in the first year. Their puppies should size out somewhere in between mom and dad. Based on a puppies current size and build, I can try to predict but, of course, there is no guarantee. The rule of thumb is that if you weigh a Doodle at 4 months, double it and add 10 pounds, you should have a good idea how big they will be as an adult.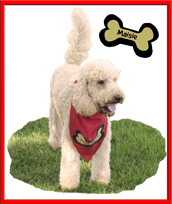 Now to the Moms who are both smaller. Maisie (to the left) weighs about 45 pounds (23" at the shoulder). As you can see Maisie is more "poodley." After all, she's an F1B Doodle. Click here to see more pictures of Maisie.
Freja to the right, is also an F1B Doodle
and weighs about 40 pounds (22" at the shoulder). Her mother was an F1 Doodle from the very rare English Cream Golden Retrievers and a white Standard Poodle who was then bred to a very small Standard White Poodle. Click here to see more pictures of Freja. I look forward to some beautiful English Cream Doodles in a variety of sizes in her litters.
All the dogs share the beautiful, long-legged conformation and gait of the poodle. Their movement is unbelievable. But they also have the deeper chest and wider head of the Golden Retriever and that shape has been passed on to their puppies who all seem to share the beautiful conformation of their parents.